Given the current discussions around the built environment, architecture and the effects of war at this time, let's take a look at the student work that focuses on just that. This week we delve into projects that study the effects of war.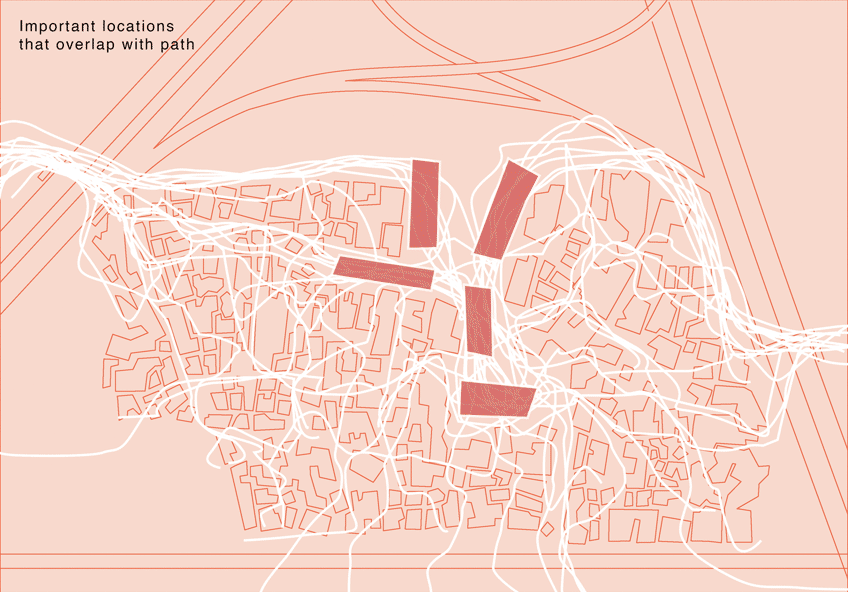 Haven by Naya Aslan, B.Arch '23
American University in Dubai | Advisor: Abdellatif Qamhaieh, PhD
As a result of the civil war in Syria, many Syrians left the communities they lived in and became internally displaced persons, living in informal camps around Damascus, the capital of Syria. As a result of this displacement and the overall violent events, a sense of loss and disorientation overwhelms these communities. They are also entirely neglected by the regime and live in peripheral areas of the city in run-down, poorly-serviced informal camps.
Haven is a project proposed to reintegrate these communities into the city and re-introducing them to their Syrian heritage. The aim is to restore their national pride and remind them of what it means to be Syrian. The project represents an ambitious design that combines architecture, heritage, and landscape interventions.
This project received the American University in Dubai Senior Showcase – Second Place Award.
Instagram: @naya_aslan, @abdellatifqamhaieh
Seeds of Hope by Narges Abdul Aziz, B.Arch '23
American University in Dubai | Advisor: Anna Cornaro, PhD
The Taliban's takeover of Afghanistan on August 15, 2021, has resulted in significant consequences affecting the country's cultural and national identity while also depriving its citizens of fundamental human rights. The situation raises questions about how the Afghan community residing outside the country can aid the cultural connections beyond the nation's borders.
The rise of the Afghan community in the UAE can not only help overcome the loss of Afghan culture, identity, and heritage but also connect people of different nationalities through its intertwined culture. Over many centuries, Afghanistan's culture has been shaped by its neighboring countries and the Middle East region, with influences evident in its language, music, architecture, and hospitality. These cultural traits provide a unique opportunity for people from different countries to explore Afghan culture, find common ground, and establish strong bonds.
This project aims to preserve Afghan culture and heritage while fostering connections among diverse individuals. The UAE's multiculturalism makes it an ideal location for this initiative. The Afghan community in the UAE can leverage this connection to strengthen cultural ties and create a more unified society based on shared interests and goals.
This project received the American University in Dubai Senior Showcase – Third Place Award.
Instagram: @annacornaro
Olivewood Ties by Samantha Miller, MLA
University of British Columbia | Advisor: Fionn Byrne
Past and present peace negotiations have failed to propel Israelis and Palestinians to coexistence and liberation. These nations have conflicting collective narratives that make it challenging to accept the legitimacy of the other's right to exist. Furthermore, physical barriers to peace, such as the nearly 800-kilometre separation barrier, erode possibilities for interaction and human connection. This academic endeavor challenges the myth that peace and war are binary and cannot exist simultaneously. Upon the acceptance that the consequences of war are sociocultural and spatial, we can begin navigating a spatial strategy for peace-building. Both groups share a deep-rooted love and respect for the land they call home or dream of one day returning to. Because of this, these communities have enmeshed realities, and their futures are both tied to each other and the land.
Olivewood Ties investigates how landscape can be a peace-building mechanism in the divided context of Israel/Palestine. Presently and historically, trees like the pine and the olive were proxy soldiers, employed in war-fighting, land acquisition, and nation-building. If trees and flora were instead proxy peace-builders, what implications do different landscape design strategies possess and moreover, what opportunities do they offer as a mechanism toward healing and unity?
The three design proposals are framed as 'stories/counter stories.' Their sites and stories are chosen due to their proximity to the wall, their history of trees being used as a weapon or nation-building tool, and their opportunity for peace-building or healing at different scales. The proposals offer strategies to find peace within war and heal lands and peoples simultaneously. In this way, we can acknowledge facts on the ground, power imbalances, and traumas and respond to them with empathy. Ultimately, this project aims to reveal the faces of perseverance, the activist groups who unite Israelis and Palestinians, and the trees who bore witness to the tears of suffering and celebration of liberation.
This project received the Dr. John Wesley Neill Prize.
Instagram: @millersami, @fionn_byrne
People, Parts, Production. by Brandon Chin, M.Arch '23
University of Southern California | Advisor: Lisa Little
The exponentially growing migrant and refugee populations of Iztapalapa, Mexico City requires a new typology strategy and system of parts. Through explorations of human scale, the parts create housing, an educational institution, and healthcare facilities for the displaced. The design intent plays with the placement and orientation of interconnected parts to be mass-produced and mass-customized whole.
The United Nations defines a megacity as a place which has a population of 10 million or more people. Current data shows that Mexico City (CDMX) is ranked 7th in the world with a population of 21.9 million. This geographic location is also a destination place for the forcibly displaced people (refugees) and according to Bloomberg, Mexico received more than 100,000 asylum claims in 2020 – 173% more compared to 2019. More specifically, Iztapalapa – the densest populated suburb in CDMX – is a site of asylum for the displaced and unfortunately possesses slums and homelessness. Iztapalapa is one of sixteen regions in Mexico City and has a population of 1,835,486.
With neighborhoods like Iztapalapa, it can be subject to "high levels of concentration of large numbers of people in specific areas; high levels of consumption and production; uncontrolled development and land-use deterioration due to a lack of effective planning policies; high levels of air pollution due to the excessive use of private vehicles; high demand for water, and a dependency on fossil fuels for energy" (Madero, Morris). While these data points prove to be consistent with megacities across the globe, the problem here is that inhabitants in Iztapalapa lack what many of us have access to – which is housing, healthcare facilities, and education. Leveraging the concept of participatory frameworks and redistribution of resources, the Discrete model will identify a framework to generate a program targeted to building spaces for the displaced to live in, have access to healthcare, and occupy spaces to learn.
This project received the USC Master of Architecture Distinction in Directed Design Research.
Instagram: @b.hart.c, @lisa_k_little
Jeong at the Joint Security Area (JSA) by Lianna Moze and Jason Chavez-Carballo, B.Arch '23
New York Institute of Technology | Advisor: Dongsei Kim
The Demilitarized Zone (DMZ) between North and South Korea is one of the most militarized areas in the world. Protected from urbanization for the last 70 years, the DMZ has become an involuntary park for flourishing flora and fauna with minimal human intervention and a relic of the Cold War.
"Jeong at the Joint Security Area (JSA)" is located at the center of the conflicted border between North and South Korea. The proposal reimagines this politically tense DMZ as a new cultural center that focuses on the shared history and culture between North and South Korea before its division.
A new relationship between North and South Korea is built over time by building this project in this politically charged space. Programs such as Korean-themed Temple Stay, Farm to Table Restaurant, Culinary School, Theater, and DMZ Museum are utilized to transform existing buildings used for security and meetings at the JSA into spaces that activate shared values and history between the two Koreas. Senses related to eating, conversing, playing, learning, and leisure are amplified to activate the notion of "Jeong" (Korean for meaning "affection," "attachment," "love," or "intimacy) between the people of the two Koreas.
Instagram: @jsc_designs_, @little.lianna_, @jasontaco2, @dongsei.kim
Changes: Tracing Time by Zeina Lotfy, B.Arch '23
New York Institute of Technology | Advisor: Dongsei Kim
The Demilitarized Zone (DMZ) between North and South Korea is one of the most militarized areas in the world. Protected from urbanization for the last 70 years, the DMZ has become an involuntary park for flourishing flora and fauna with minimal human intervention and a relic of the Cold War.
"Changes: Tracing Time" is inspired by the rivers and ecological flows that cut across the political border between North and South Korea. It focuses on the constantly changing characteristics of nature and how it can initiate change to the stalemate between North and South Korea. The project is placed directly on the Military Demarcation Line (MDL) at the Joint Security Area (JSA) to transform the human-made political line into an ecologically driven reconciliatory space. Further, the project attempts to project an alternative future amplified by natural processes expressed through water flows and seasonal change.
The project's trails follow the existing undulating topography of the landscape parallel to the flows of the water and existing buildings. The pathways are weaved with programs such as the gardens inspired by traditional Korean Gardens that encourage the users of the space to engage with the surrounding nature. Native flora and fauna that have symbolic and ritualist significance to both Koreas, such as the Korean Red Pine and persimmon trees, are mediated by the project's architecture and landscape that aspire to resolve the seventy-year-old conflict and divide.
Instagram: @zeina.designs, @dongsei.kim
See you next week for the next series of the Student Showcase!
https://studyarchitecture.com/wp-content/uploads/ThesisFeature_BrandonChin23-Alvin-Huang-1.jpg
456
1200
Heather Albarazi
Heather Albarazi
2023-10-23 12:23:42
2023-10-30 20:17:16
2023 Study Architecture Student Showcase - Part IV