(via Curbed)
Frank Lloyd Wright Architecture School Students Built These 'Survival Cabins'
by Asad Syrkett @asadsyrkett
In collaboration with Tarragona, Spain-based design firmAixopluc (Catalan for "home"), students from the Frank Lloyd Wright School of Architecture built a number of shelters on the school's Scottsdale, Arizona, campus, Taliesin West (formerly home to Wright's Arizona residence and studio). Their budget? Just $2,000. And it was all done in twelve weeks.
When you cut through the archispeak on the Aixopluc site, it sounds like the endeavor, called Little Maps, was spurred by a Taliesin program to get students to "learn by doing" and "learn by nature" as touted on the Taliesin Shelter Studio website, and a genuine interest in the core issue housing addresses—providing shelter from the elements.
But while the designs may be bare bones when it comes to the materials used, there's still some aesthetic intrigue here: dwellings with butterfly roofs made of corrugated metal rest on metal frames resting on foundations built of stone found on the grounds.
You can take a look at construction photos and see more over on the Taliesin Shelter Studio Tumblr.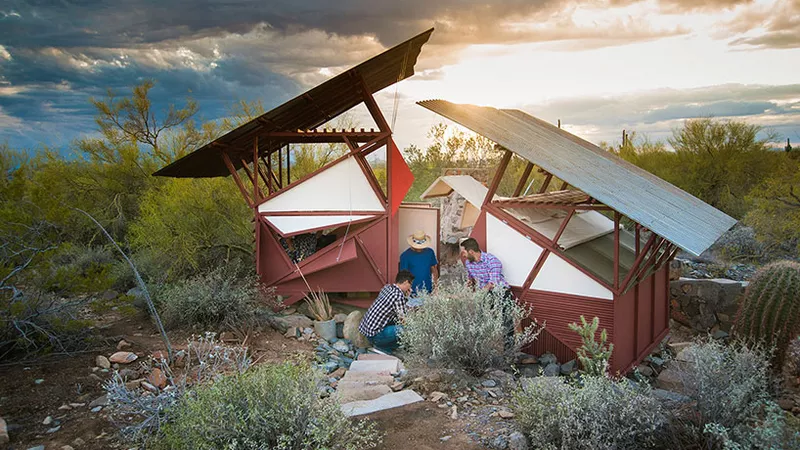 the little joys of building from little maps on Vimeo.
—
Check out the Frank Lloyd Wright Architecture School's Profile on StudyArchitecture.com!
—
(via Curbed)
https://studyarchitecture.com/wp-content/uploads/littleshelters_aixopluc_db_02.jpg
400
600
Amanda Gann
Amanda Gann
2016-04-27 15:42:21
2016-04-26 15:46:17
Frank Lloyd Wright Architecture School Students Built These 'Survival Cabins'