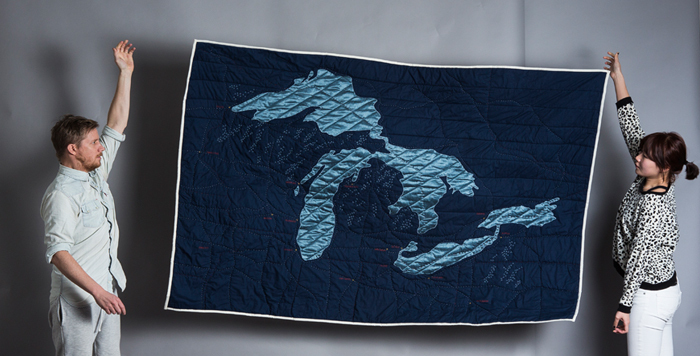 (via Archinect)
Emily Fischer studied at University of Michigan 
Where did you study architecture?
I received my M.Arch from the University of Michigan's Taubman College of Architecture.
At what point in your life did you decide to pursue architecture?
During the summer between my junior and senior years in undergrad. I was doing the liberal arts thing in Indiana and I would visit places like New Harmony and Columbus on my own – small Midwestern towns famous for buildings by Eero Saarinen and Philip Johnson.  I was obsessed. I took an architectural tour of Columbus, and an elderly man seated next to me asked if I was an architecture student. I said no… but I really wanted to say yes. That singular moment was the first time I realized I could become an architect or that I had a professional calling. Which was strange, because even as a child I was drawing 1:1 floor plans in sidewalk chalk.
What skills did you gain from architecture school, or working in the architecture industry, that have contributed to your success in your current career?
The most critical asset that my architectural training gave me was the ability to use both the left and right sides of my brain in equal measure. I am constantly shifting tasks as a design entrepreneur, and it takes discipline to tackle all the boring things that make good design possible. It's not enough to have a great idea, you have to have the ability to execute that idea. That means staying focused and motivated on one idea for the long haul, and keeping your team organized and delegating tasks to the right people. Right now, I manage the efforts of 8 employees working out of two studio spaces in Brooklyn. I also manage the efforts of our manufacturing partners overseas in India and Indonesia, and our kite-makers in Williamsport, PA.  As a former project manager, I still spend a good part of each day looking at spreadsheets and schedules.  But I always find quiet moments to start something new, to experiment with a new material or seek out the intellectual refueling that keeps me going.
Read Emily's full story here.
https://studyarchitecture.com/wp-content/uploads/Blog_Careers_2a.jpg
356
700
joe
joe
2016-02-04 19:50:00
2016-03-16 23:16:54
Working out of the Box: Emily Fischer of Haptic Lab