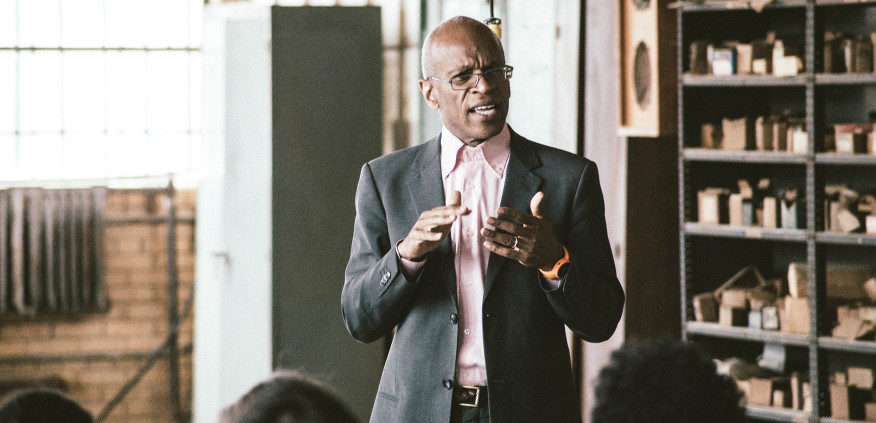 The first time I visited Detroit, five years ago, I got a grand tour one evening from one of the city's most tireless boosters, advertising exec and author Toby Barlow. He took me to an avant-garde piano concert in the hip neighborhood of Corktown, an artisanal pizza joint near Eastern Market, and, oddly, a wrap party for a Hollywood movie held at a soul food restaurant downtown.
During my trip I realized that if I tagged along with someone like Barlow, I could find a city that felt vital and urbane, a connect-the-dots puzzle of imagination and ambition, in which small-scale and entrepreneurial efforts were leading the way. There was an awakening here, but you had to know where to find it.
When I returned to Detroit this past September, I discovered a very different city. For one thing, for the first time in decades, Detroit is enjoying an influx of major new construction. Orleans Landing, for example, a 278-unit market-rate apartment development designed by Urban Design Associates (local firm Hamilton Anderson Associates is the production architect), is nearing completion on a site near the edge of downtown, at the intersection of two popular bike and pedestrian trails, the city's River Walk and the Dequindre Cut. Just to the north, a pair of major developments are underway: City Modern at Brush Park, an architecturally ambitious 405-unit, 8.4-acre residential enclave and, practically next door, District Detroit, a massive 45-acre agglomeration of uses with a new hockey arena at its center. Both projects will boast easy access to the QLine, a 3.3-mile streetcar system along Woodward Avenue, Detroit's central spine, scheduled to open next year. The QLine is the city's first new transit since the downtown People Mover opened in 1987.
For another thing, Mayor Mike Duggan has hired the city's highest-profile planning director since Charles Blessing, who in the 1960s dreamed up a modernist remake of the city that was never implemented (although he did manage to lure Luwig Mies van der Rohe to town to design the beloved apartment and townhouses complex known as Lafayette Park).
A Phenom Named Cox
Architect and urban planner Maurice Cox moved to Detroit last year from New Orleans, where he was associate dean at the Tulane School of Architecture and ran its community-based design studio. Cox is considered to be a phenomenon within urban planning circles: smart, passionate, and inspiring. In 2003, when he was mayor of Charlottesville, Va., I interviewed him for a radio essay about democracy and architecture. We went to the historic part of the University of Virginia campus—he'd taught in the architecture school there—and talked about Thomas Jefferson. Then Cox impressed me by insisting we visit the pedestrian mall downtown and explained how that more workaday place also embodied Jeffersonian ideals.
Today, Cox works in an office dominated by a wall-sized map displaying Detroit's 100,000 or so publicly owned properties. "The green represents vacant land," Cox tells me. "The ones with the stars on it are properties that should be demolished, and other stars are properties that can be rehabbed."
During an hour-long conversation, Cox rattled off more ideas—all of them grounded in reality—than any one city could possibly attempt. Admittedly, many of the schemes he's setting in motion are an outgrowth of the plan initially called Detroit Works and later Detroit Future City, drawn up during the Dave Bing administration.
Bing set out to save the city by lopping off its most abandoned portions. The idea was to divide neighborhoods into three categories—steady, transitional, and distressed. City services like street lights and ambulances would be enhanced at the steady end of the spectrum and removed from the distressed end. Then, in 2013, Detroit went bankrupt, and it elected Duggan. "Tens of thousands of people," Cox says, referring to Bing's plan, had already done a lot of thinking about "how the city should form around this question of the million-plus people that have left and are not coming back."
While Detroit's population is still shrinking—a city that peaked at nearly 1.9 million in the 1950s is now home to fewer than 700,000 people—the outflow slowed last year to a trickle; the city lost half a percent, or 3,107, of its residents. "People aren't moving out at anywhere near the rate they were," Mayor Duggan told the Detroit Free Press. "They are choosing to stay. We're at a historic tipping point." According to the mayor, it's even possible that this year Detroit's population will grow.
Read more on Architect Magazine's Website!
https://studyarchitecture.com/wp-content/uploads/justinmilhouse.jpeg
584
876
Amanda Gann
Amanda Gann
2017-01-10 19:10:43
2017-01-10 19:14:07
Maurice Cox's Detroit